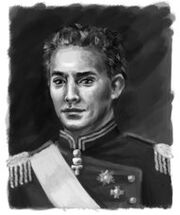 Alexander XIV., Kaiser des Finsterlandes. Sein Geburtsname ist Grigorij Rastrasevicz. Ein junger, gutaussehender Mann mit kurzen wuscheligen braunen Haaren. Er ist noch unverheiratet und bei der Damenwelt durchaus beliebt. Seine Geschichte ist insofern besonders, als dass er der erste Kaiser des Finsterlandes ist, der seinen Thron geerbt hat. Damit ist seine Familie, die Rastrasevicz, Begründerin der ersten Dynastie des Finsterlandes.
Das Wappen der Familie ziert derzeit das kaiserliche Wappen des Finsterlandes.
Nähere Informationen im Grundbuch auf S.106.
Ad blocker interference detected!
Wikia is a free-to-use site that makes money from advertising. We have a modified experience for viewers using ad blockers

Wikia is not accessible if you've made further modifications. Remove the custom ad blocker rule(s) and the page will load as expected.