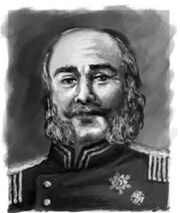 Eugenius Carolus Leonid ist der Kurfürst des gleichnamigen Fürstentums und der Marschall des Finsterlandes. Er ist damit der Oberkommandant der Finsterländer Armeen und der neue starke Mann im Land.
Obwohl er schon recht alt ist, kultiviert er ein öffentliches Auftreten der Stärke und Verbissenheit. Er trägt einen prachtvollen Backenbart und kurzgeschorene Haare.
Seine Politik ist von Militarismus und technischem Fortschritt geprägt. Er möchte eine ruhige Bevölkerung, die im Dienste des Fürstenhauses arbeitet. Seine direkten Unterstützer sind die Leoniden, die eine Vielzahl von politischen Organisationen betreiben.
Der Kurfürst ist zwar ledig, tritt in der Öffentlichkeit aber in Begleitung einer maskierten Dame, die von der Presse "Madame Leonid" genannt wird, auf.
Der Kurfürst hat die Schuhgröße 37, was insbesondere unter Schustern im gesamten Finsterland als Insiderschmäh gilt.
Nähere Informationen im Grundbuch auf S.106 und im PDF "Leoniden und Kaiserliche".
Ad blocker interference detected!
Wikia is a free-to-use site that makes money from advertising. We have a modified experience for viewers using ad blockers

Wikia is not accessible if you've made further modifications. Remove the custom ad blocker rule(s) and the page will load as expected.