Das Haus
Samum
wurde vor vielen Jahrhunderten mit einem Fluch belegt.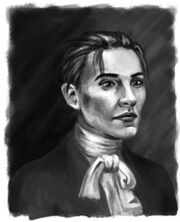 Die erste weibliche Erbin des Hauses würde seinen Untergang herbeiführen. Als die Eltern der jetzigen Fürstin eine Tochter als Erbin in die Welt setzten, war die durchaus improvisierte Lösung, dass sie ihren Namen in einen Männernamen umänderte. Jetzt ist die junge Dame Ende zwanzig eine der großen Spielerinnen der Finsterländer Politik und schafft den Balanceakt zwischen einer sehr traditionellen Gegend und einer aufstrebenden, modernen
Industrie
. Sie beherrscht den
Süden
mit der eisernen Faust im Samthandschuh.
Ihre sanften Versuche, das Land zu modernisieren und die nötigen Rahmenbedingungen für wachsenden Wohlstand zu schaffen, müssen mit einer sehr mächtigen Kirche und unzähligen privilegierten Vasallen abgestimmt werden. Der ganze Prozess ist langwierig und mühsam, doch lässt sie sich von ihrem Weg nicht abbringen und lenkt ihr Land von ihrem Palast in Eppanto.
Nähere Informationen im Grundbuch auf S.107-108.
Ad blocker interference detected!
Wikia is a free-to-use site that makes money from advertising. We have a modified experience for viewers using ad blockers

Wikia is not accessible if you've made further modifications. Remove the custom ad blocker rule(s) and the page will load as expected.