Machinae sind künstliche Körperteile, die jenen eingesetzt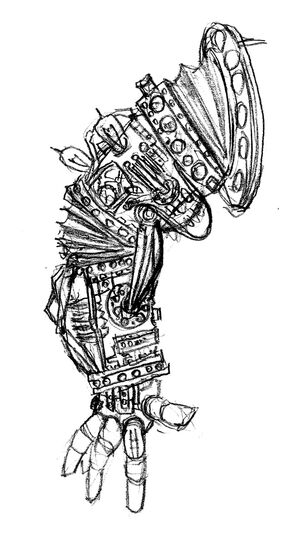 werden, die ihre ursprünglichen Körperteile bei einem Unfall oder durch eine Krankheit verloren haben. Sie werden sowohl für Gliedmaßen als auch für Organe im Inneren des Körpers verwendet. Menschen, die solche Machinae tragen, werden auch Machinatoren genannt, insbesondere dann, wenn sie ihre Prothesen offen tragen. Diese Teile sind den meisten Finsterländern unheimlich, weshalb viele Träger und Trägerinnen versuchen, sie zu verstecken.
Die Grundidee der Machinae wurde von Ottokar Josipovic erfunden.
In den letzten Jahren hat sich eine Gruppe von Machinatoren etabliert, die offen zu diesen Veränderungen stehen und sie sogar absichtlich über sich ergehen lassen. Diese Personen nennen sich selbst Prometheer und werden von den meisten normalen Bürgern und Bürgerinnen als völlig wahnsinnig gesehen.
Die Bewegung wird jedoch vom Kurfürstentum Velom unterstützt, nicht zuletzt deshalb, weil die jetzige Kurfüstin ebenfalls Machinatorin ist.
Nähere Informationen findet man im Grundbuch auf S.89 und im Artikel "Machinae".
Ad blocker interference detected!
Wikia is a free-to-use site that makes money from advertising. We have a modified experience for viewers using ad blockers

Wikia is not accessible if you've made further modifications. Remove the custom ad blocker rule(s) and the page will load as expected.