Matteo di Populi war ein Mönch und Schriftgelehrter, der die Religion des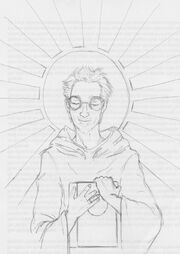 Finsterlandes zutiefst veränderte. Er vertrat die Theorie der göttlichen Substanz und beendete damit den bis dahin herrschenden Polytheismus. Die verschiedenen
Heiligen
des Finsterlandes wurden zu Ankerpunkten für die Bevölkerung degradiert und das neue höhere Wesen würde ein abstraktes, von menschlichen Regungen freies Konzept sein. Die Matteische Reformation veränderte das spirituelle Leben der Finsterländer grundlegend. Religiöse Ge- und Verbote wurden geprüft und nach ihrer Tauglichkeit neu beurteilt. Damit endete auch die vorher starke politische Rolle der
Kirche
im Finsterland.
Selbstverständlich war dieser Prozess kein leichter. Die etablierten Kirchenhierarchien stellten sich gegen den Philosophen und so konnte er seine Gedanken nur langsam verbreiten. Heute stehen diese Ideen jedoch im Wesentlichen außer Zweifel. Nur wenige, sehr konservative Gruppen wollen noch zum alten System zurückkehren. Sein Sphärenmodell ist mittlerweile de facto vollständig anerkannt.
Ad blocker interference detected!
Wikia is a free-to-use site that makes money from advertising. We have a modified experience for viewers using ad blockers

Wikia is not accessible if you've made further modifications. Remove the custom ad blocker rule(s) and the page will load as expected.