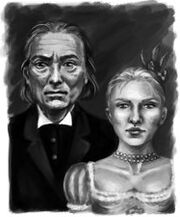 Maya und Rutger Pailias sind die Herrscher des Hauses Pailias. Sie sind beide schon seit Jahrzehnten für ihr Fürstentum zuständig und haben es auch während des Krieges geschützt und gestärkt. Seit dem Ende der Katastrophe führt ihre Politik zum Wachsen und Gedeihen ihres kühlen Landes.
Gemeinsam schafft es das Paar, seine Untertanen ruhig zu halten und seine Macht zu bewahren. Sie sehen sich dem Kaiser verpflichtet, wie es im Haus Pailias seit der Zeit der Priesterkönige Tradition ist.
Maya ist eine kühle und elegante Schönheit, die trotz ihres fortgeschrittenen Alters immer noch zu charmieren weiß. Rutger hingegen ist ruhig und zurückhaltend. Seine lange und dürre Gestalt steht für trockene Ernsthaftigkeit und einen gewissen Stolz. Das Paar hat fünf Kinder, die ob der Nachfolge bereits in den Startlöchern scharren und die Messer wetzen. Es zeichnet sich nämlich noch kein offizieller Nachfolger ab. Gleichzeitig entwickeln einige von ihnen eine gewisse Lust an der großen Politik. Gerade Harald, der zweite Sohn, unterstützt die Znaimiten, die eine Rückkehr der Priesterkönige fordern.
Nähere Informationen zu den beiden Herrschern finden Sie im Grundbuch auf S.108-109.
Ad blocker interference detected!
Wikia is a free-to-use site that makes money from advertising. We have a modified experience for viewers using ad blockers

Wikia is not accessible if you've made further modifications. Remove the custom ad blocker rule(s) and the page will load as expected.