Milena Velom ist die Kurfürstin des gleichnamigen Hauses und eine der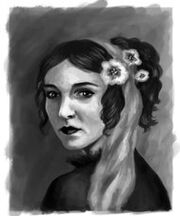 mächtigsten Personen des Finsterlandes. Sie ist eine der Anführerinnen der
Prometheer
und damit die Ziehmutter der größten fortschrittsfördernden Gruppe des Landes. Ihr Engagement für diese Organisation ergab sich daraus, dass sie selbst in frühester Kindheit zur
Machinatorin
gemacht wurde, um ihr Leben zu retten. Nur durch die neuartigen und experimentellen Eingriffe konnte sie überleben.
Die Entscheidung ihrer Familie, das gesamte Erbe bis auf den eigentlichen Familiensitz zu opfern, bringt für sie die Verpflichtung, das Haus wieder zur Größe zu führen. Jetzt wächst auf diesem winzigen Areal eine riesige, senkrechte Stadt heran. Tarimgrad ist die Stadt der Zukunft und die schwarzhaarige Schönheit ist ihre Göttin. Sie lebt unglaublich diszipliniert und scheint nie zu schlafen, immer bereit für einen neuen Schritt nach vorne. Ob sie alleine ist oder doch einen Partner in ihrem Leben hat, ist nicht sicher.
Nähere Informationen im Grundbuch auf S.107.
Ad blocker interference detected!
Wikia is a free-to-use site that makes money from advertising. We have a modified experience for viewers using ad blockers

Wikia is not accessible if you've made further modifications. Remove the custom ad blocker rule(s) and the page will load as expected.