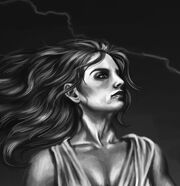 Die Magierin, die die Geschichte als Rotraud kennt, war die Begleiterin des mythischen Helden Baarast und seines treuen Gefährten Brönn. Ihre Sage gehört zum Kreis des Zadok ben Znaim. Sie soll bei der Schlacht am Echsenberg Blitze und Feuer vom Himmel regnen gelassen haben und die Armeen Ku'ums des Schlachters vernichtet haben.
Rotraud wird meistens als durchtrainierte Amazone mit langem wallenden Haar und dramatischer Pose dargestellt. Da es keine überlieferten Beschreibungen gibt, sind den Künstlern hier keine Grenzen gesetzt.
Es gibt einige Legenden, die besagen, dass sie das Geheimnis der Unsterblichkeit erlangt haben soll und immer noch in einer Höhle unter dem Echsenberg wohnen soll.
Ad blocker interference detected!
Wikia is a free-to-use site that makes money from advertising. We have a modified experience for viewers using ad blockers

Wikia is not accessible if you've made further modifications. Remove the custom ad blocker rule(s) and the page will load as expected.